Proteomic and genomic investigation of PSD-95 protein-protein interactions in schizophrenia
This is an innovative LIFE application to investigate abnormalities of brain health in schizophrenia, It is an understatement to say that the treatment of schizo-spectrum disorders has not progressed in the past 20 years since the development of atypical antipsychotics. There is broad consensus that these newer medications do not extend the efficacy of pharmacological treatments to cognitive and negative/deficit symptoms, which lead to profound disability in persons afflicted with schizophrenia. Thus, there is a pressing need to develop a more sophisticated understanding of the pathophysiology of this illness in order to develop new treatment strategies. Schizophrenia is polygenic illness and de novo variations/mutations in the genome account for about 80% of the genetic risk. Converging genetic evidence suggests that schizophrenia is a disorder of neuroplasticity, involving pathophysiological changes in synaptic function that lead to cognitive deficits. Synapses throughout the brain contain microdomains called postsynaptic densities (PSDs), which are dynamic aggregations of receptor, structural, and signaling proteins. Accumulating evidence implicates abnormalities of PSD content and function in schizophrenia, but studies on key elements of the PSD in schizophrenia have not been performed. The overarching goal of this application is to learn more about the abnormalities causing aberrant neuroplasiticty in schizophrenia by examining the protein constituents of the PSD and their associated mutations or polymorphisms. We specifically hypothesize that the type and abundance of proteins associated with PSD-95, a core element of the PSD, are abnormal in schizophrenia. We propose to affinity purify PSD-95 protein complexes from the dorsolateral prefrontal cortex in subjects with schizophrenia (n = 20) and a control group (n = 20), and use discovery-based tandem liquid chromatography-mass spectrometry (LCMS) to identify and quantify proteins interacting with PSD-95. We will develop a network model of the PSD-95 interactome in schizophrenia, and use this model as well as historical data to select high-yield candidates for ultra-deep sequencing of whole genes from the same subjects to definitively identify rare, haplotype, splice site, or functional mutations which could alter protein-protein interactions between PSD proteins. Polymorphisms/ mutations found in our candidates will be compared to publically available databases to determine which are potentially disruptive. By connecting alterations in protein-protein interactions with underlying genomic variability, this application will extend our understanding of the pathophysiology of schizophrenia as well as identify novel substrates that may be targeted for the treatment of this often devastating illness.
Drs. McCullumsmith and Funk were awarded $100,000 over 2 years for their research project.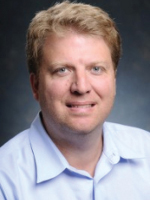 Robert McCullumsmith, MD, PhD
Dr. McCullumsmith studied biochemistry (BS) at Indiana University, then pursued joint MD, PhD degrees at the University of Michigan. Following a research-track residency in Psychiatry at the University of Michigan, he joined the faculty and began to study abnormalities of glutamate transporter expression in severe mental illness. Dr. McCullumsmith was promoted to Associate Professor with Tenure while at the Department of Psychiatry and Neurobiology at the University of Alabama-Birmingham. Dr. McCullumsmith relocated to the University of Cincinnati in 2013, and sees patients at the Cincinnati Veteran's Affairs Medical Center and the University of Cincinnati Department of Psychiatry.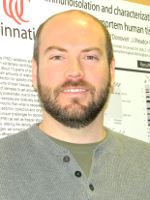 Adam Funk, PhD
Dr. Funk received his undergraduate degree from the University of Nevada Reno (2004). After graduation he accepted a research assistant position with a local biotech company, Sierra Sciences, were he performed research related to telomere biology and telomerase activation. Adam joined Neurobiology graduate program at the University of Alabama Birmingham (2006). Adam found abnormalities in multiple intracellular signaling cascades in postmortem brain tissue from patients with schizophrenia. Upon receiving his PhD (2011), Adam joined the lab of Dr. Tara DeSilva as a postdoctoral fellow studying the role of glutamate in oligodenrocyte development and demyelinating disease. Currently, with Dr. McCullumsmith Adam is studying the protein-protein interactions of PSD-95, a scaffolding and trafficking protein in the postsynaptic density in postmortem brain.